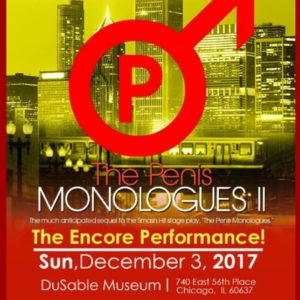 FRESH Off Two Riveting Shows on Sunday, December 3 the cast and crew are back for one more run before the end of the year and possibly before we head out on tour for 2018!
This is a MUST See production that has been deemed: "highly entertaining" and "absolutely hilarious!" Make it a date night or ladies event! Either way, it'll be an amazing time!
There is a "Cum Again" discount for those who've already seen it and would like to see it again!
The Penis Monologues II picks up where The Penis Monologues left off. 37 year-old salesman, Solomon James is two weeks away from getting married to his fiancé Kim. When Kim reveals to Solomon she desires to hyphenate his last name with her maiden name, dissension and other issues between them emerge and their pending marriage is now in jeopardy. Solomon's uncle LeRoy and friends MO-B and Mike do their best to aid him in doing the right thing but we soon learn they might do more harm than good. The Penis Monologues II addresses topics such as: love, bachelor parties, male enhancements, Men Vs. R&B singers, promiscuity, male vulnerability, male sensitivity, father son challenges, relationships and social media, glasses: face up or down in the cabinet, amongst a host of other topics.
More on www.penistoo.eventbrite.com