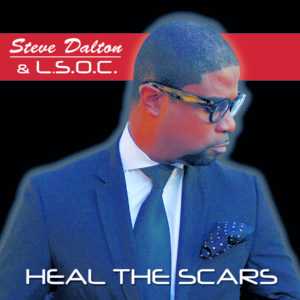 (Charlotte, NC) – May 1, 2017 – Gospel Ensemble Steve Dalton & The Leviticus Singers of Charlotte are known for providing rousing, soul-shaking sacred music. The multiple award-winning ensemble entered the Gospel music industry with the release of their songs, "I WIN" and "I WIN, The Remix", featuring Stellar Award Nominee, Dove Award Nominee and lead singer for the award-winning Donald Lawrence & Tri City Singers, LeJuene Thompson. Since that time, the group, who has opened up for Marvin Sapp, John P. Kee and Jonathan Nelson, released a seasonal song, "Jesus Christ Is Born". Now, they are breaking ground with a new singled entitled "Heal The Scars". Hailing from the Queen City, which experienced racial unrest last year, Steve Dalton & The Leviticus Singers of Charlotte chose to speak to the violence by releasing a new song aimed at mending a city that was torn at the seams. The song is currently available on iTunes, Amazon, Google Play and other digital music outlets.
The group's leader felt it was important to address the recent conflict in Charlotte from a spiritual perspective. Dalton says, "As Christians we cannot walk around with blinders ignoring things that are taking place in our world. We have a right to be socially aware of all types of injustice whether it be racial, spiritual, economical, etc. The Bible is not just filled with the worship songs of David which is are mostly from a vertical standpoint. But there are horizontal encounters in it as well such as murders, government issues, adultery claims, etc. So not only is it okay for us to sing about HIS Love, but at the same time it's also okay for us to speak out about injustice, i.e. world issues, using the message of HIS Love to let people know that all men are created equal."
Started in 2002, Steve Dalton & The Leviticus Singers of Charlotte dropped their first CD, Address Change: God's Great Relocation Music Project, in 2006. It positioned the group as a singing aggregation focused on "vertical music". They are currently finishing up their sophomore project, As One: Release the SOUND, a double CD featuring one disc of worship and another disc of praise. The Gospel industry has taken note of the group and they've been nominated for numerous awards and have won the 2015 Gospel Image Award for Best Video of the Year for "I WIN" and a 2016 Gospel Image Award for Group of the Year. They have appeared on Atlanta Live, Babbie's House, Friends & Neighbors, Nite Line, Hour of Harvest, TCT TV and Club 36. Steve Dalton is featured on the April 2017 cover of Change Gospel Magazine.