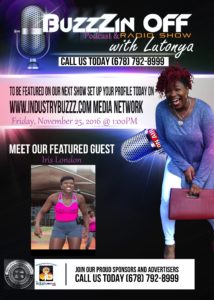 Iris T. London is the founder and CEO of I.T.L Fitness, the place "Where Fun & Fitness Meet"! Men and women of all ages join Iris for group classes and one-on-one sessions held at Bodyworx Fitness Multiplex in Oak Park, Illinois, just minutes from downtown Chicago. Her students turn up for results, but come back for the energy, fun and laughter. Just one ITL workout and you'll know what we mean!
Iris's workouts really WORK because, as a certified Zumba, Kickboxing, Group Fitness instructor and personal trainer, she's developed an energetic style like no other. She blends dance (cardio) and strength training to help you get the maximum benefit from every minute you put in.
People flood Iris's classes because of the Love, Wisdom, Acceptance and Motivation she offers every encounter. She's all right with wherever you are today – but she makes sure you know you don't have to stay there. Iris's Goal is to Challenge, Motivate and Propel people to fulfill their goals.
Iris's Boot Camps combine the best of plyometric (jump training), isometrics, cardiovascular and strength training to help you build muscle, flexibility and balance. Her Zumba classes feature unique, high-energy choreography that is Easy to follow, even if you don't have formal dance training. Thousands of fans turn up for her FREE Zumba Classes at The City of Chicago Summer Workouts in the Beautiful Millennium Park! (CLICK HERE ). The Low Impact Functional Exercise classes (also named L.I.F.E with Iris) is geared towards building core strength, resistance training, balance and flexibility. This class series is suitable for the seasoned adult.
Even though she teaches more than 10 group classes a week and works out with nearly 50 private clients, Iris shares even more of herself with the world as an actress, vocalist, stage manager, producer, choreographer and dance coach. She starred in the hit world premiere of "Bronzeville" The Musical at the historic Chicago Theater in February 2016 and will perform in the upcoming production of Pretty for a Dark Skin Girl at ( The Mario Parente Theater).

Follow Iris on:
Instagram: @itlfitness
Facebook: @Iris T. London
Twitter: @irislondon2
YouTube: @ITL Fitness